Welcome to the New Gray Mare!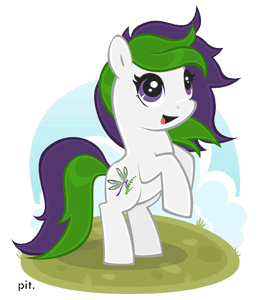 Hello cyber traveler! You have found the New Gray Mare, a strange and wonderful place full of talking, rainbow colored equines who eat cake and sing. Don't worry, it will all seem perfectly normal after you stop asking why there is butter in the glove box.
Please be aware that this site is still in the development stages. There will be many additions coming in the near future, including a gallery of customs and a Pony Finding Service. More pretty pictures to distract you will also be appearing soon. For now, I suggest you have a look around in the store or maybe stop by the blog to see what mess I've gotten myself into this time. If you buy something from me, I'll give you chocolate!
Thanks for stopping by!
-Eskara
New Items in Store
Blog
Tools for NaNoWriMo
Posted on Wednesday November 06, 2013
Greetings fellow wordsmiths and authors! NaNoWriMo is in fully swing and I've been eagerly working away at my latest story. It's quite the tale and I can't wait to get this draft finished so I can edit, revise, and share it with you.   But, that's not the whole point of this post. I want [...]...
Of Ponies and Ducks
Posted on Wednesday October 09, 2013
So, I bet you've been wondering where I've been.  Ah, who am I kidding? Nobody reads this! It's just a little writing exercise for myself and the hope that somebody, somewhere will enjoy a glimpse into my insane world. I'd like to say I've been super, super busy; but, the truth is, I'm a lazy [...]...
2012 Cincinnati Pony Meet
Posted on Monday July 30, 2012
Attending TrotCon last week wasn't enough for me.  I must have more pony!  This was the first Cincinnati pony meet I have been able to attend since the first one in 2007.  In the past, it's always been scheduled for the first weekend of August, which happens to coincide with the Dublin Irish Festival. Since [...]...
Facebook
TheNewGrayMare Testing to see how stupid Facebook is acting.


MY LITTLE PONY COLLECTOR
glossi.com
MY LITTLE PONYCOLLECTOR Get a peek into the newest MLP Collector Inventory guide and find out all the newest 2014 MLP Fair details! BECAUSE ONE PONY IS NEVER ENOUGH! January 2014 15th January 2014 12:12
TheNewGrayMare What the? I don't even... Can't stop watching.

http://www.youtube.com/watch?v=-Z7UnO66q9w


Friendship is Manly
Twilight, Rainbow Dash, Rarity, Fluttershy, and Applejack go to Gummy's Birthday party hosted by Pinkie Pie. --------------- So yeah, this was 6 months of wo... 8th November 2013 10:10
TheNewGrayMare Just booked my room and purchased my pass for BronyCon! Looking forward to seeing a bunch of new faces come August 1-3! 4th November 2013 14:14